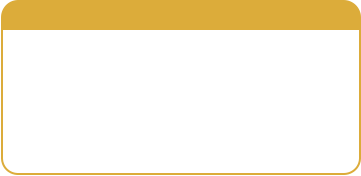 Every month we bring to you news of the
wonderful world of the vintner. New creations,
ideas and products are all showcased in our
newsletter - fascinating learning and food for
thought (or to be paired with a unique wine!)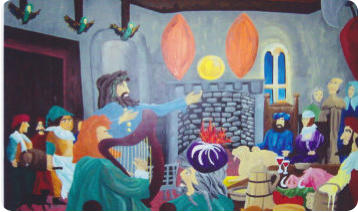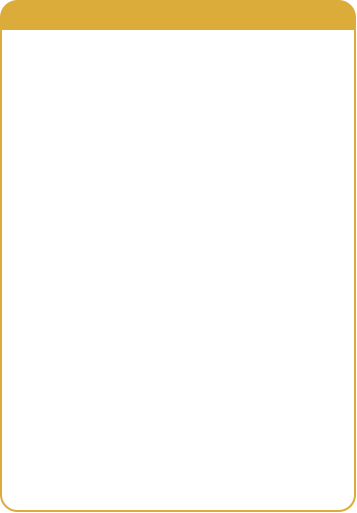 Cabernet Sauvignon

is one of the world's most
widely recognized red wine grape varieties. It
became internationally recognized through its
prominence in Bordeaux wines where it is often
blended with Merlot and Cabernet Franc. For most
of the 20th century, it was the world's most widely
planted premium red wine grape until it was
surpassed by Merlot in the 1990s.
The grape is a relatively new variety, the product of
a chance crossing between Cabernet Franc and
Sauvignon blanc during the 17th century in
southwestern France.
The classic profile of Cabernet Sauvignon tends to
be full-bodied wines with high tannins and
noticeable acidity that contributes to the wine's
aging potential.
- from Wikipedia
Bancroft Just Wine and Beer – 613 332 0697
Haliburton Just Wine & Beer – 705 455 9530
Hours
Haliburton Bancroft
Mon – Wed. 10-5 Mon-Wed 9-5
Thurs. 10-5 Thurs 9-6
Fri. 10-5 Fri 9-5:30
Sat. 10-3 Sat 9-3
Get $7 off these KenRidge Classic 4-week wines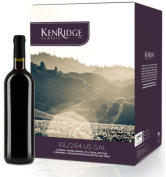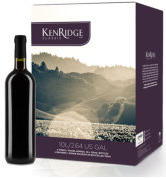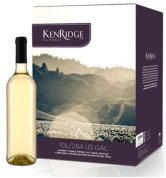 Sauvignon Blanc
Alcohol: 12%
Oak: Yes
Body: medium
This wine shows light grass and tropical fruit aromas
with hints of smokiness from the toasted oak and
smooth flavours of gooseberries and kiwi. A superb
wine with grilled pork tenderloin, goat cheese and
asparagus quiche.
Cabernet Shiraz
Alcohol: 12%
Oak: Yes
Body: Full
A full-bodied blended red wine exhibiting rich black currant
fruit flavours from Cabernet Sauvignon, and blue plum
and spice notes from Shiraz. The soft delicate tannins and
rich fruit forward styling suggests meat pies, grilled steaks
with barbecue sauce, marinated lamb chops or barbecued
back ribs as the perfect accompaniment.
Valroza
Alcohol: 12%
Oak: Yes
Body: Med-Full
Velvety soft and round with gentle aromas of cherry
and flavours of plum. This wine has a smooth texture
from start to finish. Cedar planked salmon, tomato
sauce pastas and take-out pizza are excellent
matches for this mellow red. Includes premium
American oak.
Get $7 off these World Vineyard 4-week wines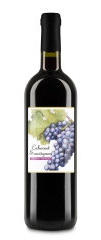 French Cabernet Sauvignon
All the classic associations with this well-known grape variety
used in France's brilliant red wine blends are here in this
Cabernet brought in directly from France: rich, intense aromas,
deep berry fruits, healthy tannins, and a smooth, lingering finish.
With the proper tannin astringency and premium French oak
evident throughout, this is an elegant wine offering body and
complexity when aged.
Italian Pinot Grigio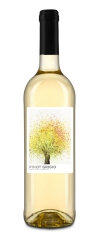 The Italians have their own way with the Pinot Gris grape
variety, and in the process they create a special magic with
it that's unmatched elsewhere in the wine world. Though dry
in character and with a pleasant zip of acidity, this Pinot
Grigio shows off a pleasant floral fragrance and tremendous
fruit flavours, making it the perfect picnic accompaniment.
Get $10 off these Legacy Premium 6-week wines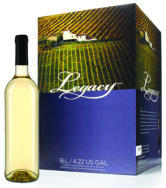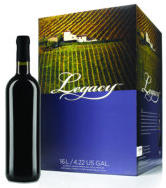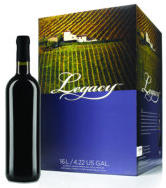 Gewürztraminer
Sweetness: 2
Alcohol: 12%
Oak: None
Body: Light
A distinctive and exotic wine with an intriguing floral bouquet.
An off dry white wine with flavours of lychee nut and
grapefruit. This wine is superb with spicy dishes such as a
chicken curry.
Cabernet Sauvignon
Alcohol: 13%
Oak: Yes
Body: Medium
This classic and robust red variety produces an aromatic,
deep ruby red wine with bouquet and flavours of black
currant, spice and plum. Impress your guests with beef
tenderloin or lamb matched with this traditional varietal.
Montepulciano Style
Alcohol: 13%
Oak: None
Body: Medium
Widely grown throughout Italy, this deep coloured,
medium-bodied red wine has spicy, fruit-forward flavours.
It is smooth and mellow and possesses good aging
potential. Try this with grilled steaks or beef shish
kabobs.